26th August 2021, Prime Bank has partnered with Crown Motors Group to offer Vehicle Asset Financing for the purchase of their range of its Nissan vehicles available for the Kenyan market.
The partnership will see customers benefit from up to 100% financing from Prime Bank for the purchase of Nissan models including the Nissan Patrol, Xtrail, and the Pick up range.
For the purchase of the models, customers will enjoy "Zero" processing fees with up to 48 months repayment period at an interest rate starting from 12.5% per annum. Furthermore, customers will also enjoy a 30 days repayment holiday from the Bank.
Prime Bank's Head of SME segment, Ms. Sarah Kiptoo noted that the partnership will ensure growth of the Bank's Asset Finance portfolio by availing an opportunity to its customers across all sectors, with a wider choice of vehicles to purchase from based on their lifestyles and business needs.
"With our robust Asset Finance offering for both businesses and individuals, this partnership guarantees both our customers and non-customers the best deal with an extended repayment period at competitive interest rates for the top of range vehicles in the market," she added.
Crown Motors Group's National Sales Manager Ms. Maliha Sheikh said, "Over and above the financial offering from Prime Bank, all Nissan vehicles come with a 2 year or 50,000 km free service plan and a 3 year/100,000 km warranty to ensure customer peace of mind whilst enjoying their cars long after their purchase".
"We anticipate that this partnership will facilitate customers in growing their businesses with high quality, reliable and affordable price point vehicles that are built for tough conditions in the Sub-Sahara African market", she added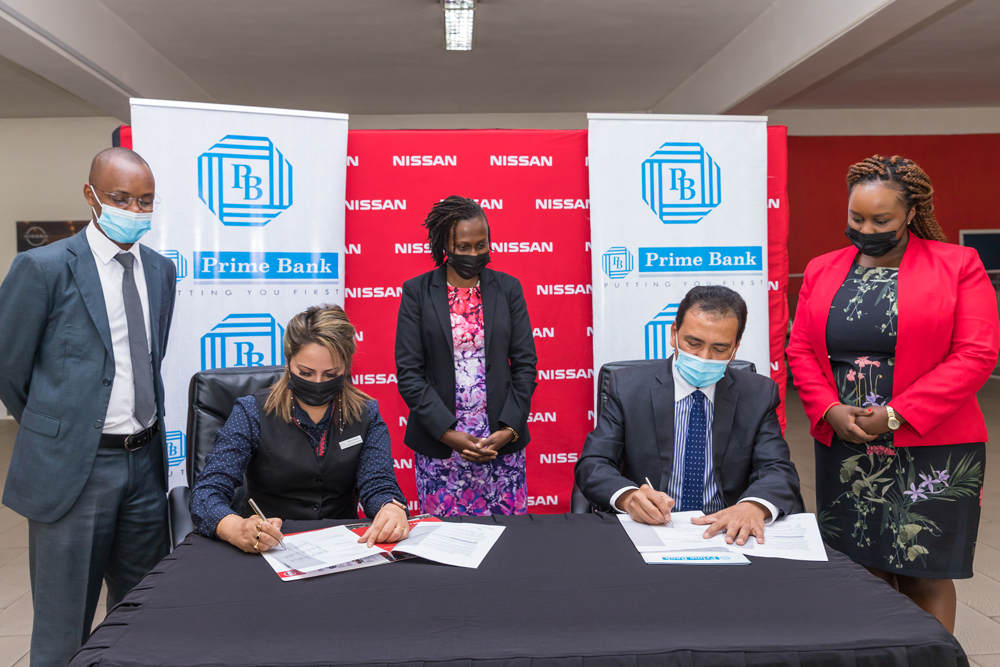 About Prime Bank Limited
Prime Bank Ltd is one of the leading private banks in Kenya and was founded in 1992. Serving its customers for over 28 years, with a network of 23 branches, Prime Bank has the expertise to deliver flexible, efficient and personalized services.
The Bank has business interests in other African countries such as Malawi, Botswana, Mozambique, Zambia, and in Zimbabwe where it recently acquired Barclays Bank of Zimbabwe through its associate bank First Capital Bank.
For more details about the Bank, please visit our website: www.primebank.co.ke
For more details about this announcement, please contact:
Prime Bank:
Contact Person: Ms. Sarah Kiptoo, Head of SME Banking
Email: sarah.kiptoo@primebank.co.ke
Tel: +254 718 816 237
About NISSAN KENYA
About Crown Motors Group:
Crown Motors Group Limited trading under the name Nissan Kenya holds an exclusive distribution agreement for the Nissan brand in Kenya. This includes the sales and servicing of Nissan vehicles as well as spare parts. The company is owned by Motus Africa, PTY LTD. a subsidiary of the listed company Motus. Motus represents several OEM's and have numerous dealerships throughout Africa, the UK and Australia. Crown Motors LTD started its operations in Nairobi Kenya in July 2014 and since then has opened branches in Mombasa and Kisumu.
For more information visit www.nissankenya.com.
Nissan Kenya Contact
Maliha Sheikh
National Sales Manager
MalihaS@nissankenya.com
+254 734 270230