Multicurrency Prepaid Card
Prime Bank's Multicurrency Prepaid Card is a Chip and PIN Protected and Contactless card that is available in Kenya Shillings, US Dollar, GB Pounds, Euros and Indian Rupee. You can load the Card in whatever combination that suits you.
You can use the Card to pay for goods and services in shops, restaurants, hotels, online shopping, to withdraw cash from VISA ATMs-worldwide and for travel purposes. It is the perfect method of payment for students studying abroad; tourists and online buyers.
The Card automatically defaults to the local Currency of the country wherever you are in the world. If you don't have local Currency, or enough of the local Currency on your Card, the transaction will decline due to insufficient funds. The base currency of the card is USD. When the card is used in any other country apart from the five available wallet currencies, the equivalent amount is debited from the USD currency wallet and the applicable foreign exchange rate will be applied.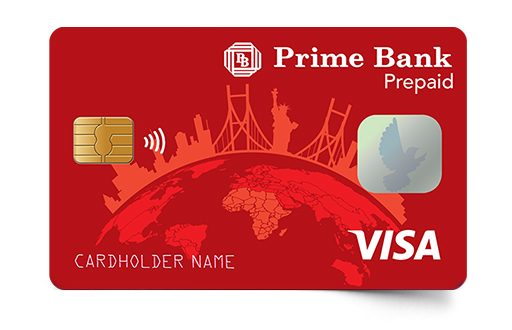 Pay safely everywhere.
Paywave technology that enables contactless payments – just tap or wave and pay for low value purchases.
Spend on your own terms − load just what you need, when you need.
Pay for goods and services, Online Transactions or withdraw cash from local and international ATMs
Reload the card in any of the five currencies by visiting any Prime Bank Branch, or in KES through M-Pesa via Paybill no. 982800 or our mobile banking app, PrimeMobi (To use Prime Mobi, you must have an account with Prime Bank).
Load a maximum of USD 8,000 or equivalent.
24 hour Call Centre support on +254 111 004 000/ +254 111 006 000 or email prepaidcard@primebank.co.ke
Chip and PIN card, giving you an additional security with 3D Secure for Online transactions.
Receive SMS alerts for all financial transactions.